Best Age to Start Boxing: How Old Do You Have To Be?
From champion heavyweights like Mike Tyson to featherweights like Amanda Serrano, some of the world-renowned boxers took up their sport as young as 10 years old. That said, like any other physical practice, the decision to start training often comes down to where your body rests in its developmental trajectory.
While athletes must be at least 18 years old to participate in a professional boxing match, there's no required age for beginners. Boxing training can start at any age, depending on interest level, accessibility, and physical ability. 
Whether you're contemplating letting your teen or younger child enter the ropes or just curious about the optimal age to start training, this article will review professional boxing regulations, industry standards, and our recommendations for the best time to slip on those mitts.
What Age Can You Start Boxing?
The Association of Boxing Commissions and Combative Sports lists the following minimum age requirements for boxing: 
18 for US professional boxing 
19 for Olympic boxing 
Note that the average young boxer takes about 2 to 3 years fighting at the amateur level before becoming a professional. The boxing community speculates that it takes at least 100 fights to achieve professional standing. 
On the other side of the spectrum, the upper age limit for professional boxing is 40. So, if you're a teen anticipating a serious, professional path, there's no need to rush it.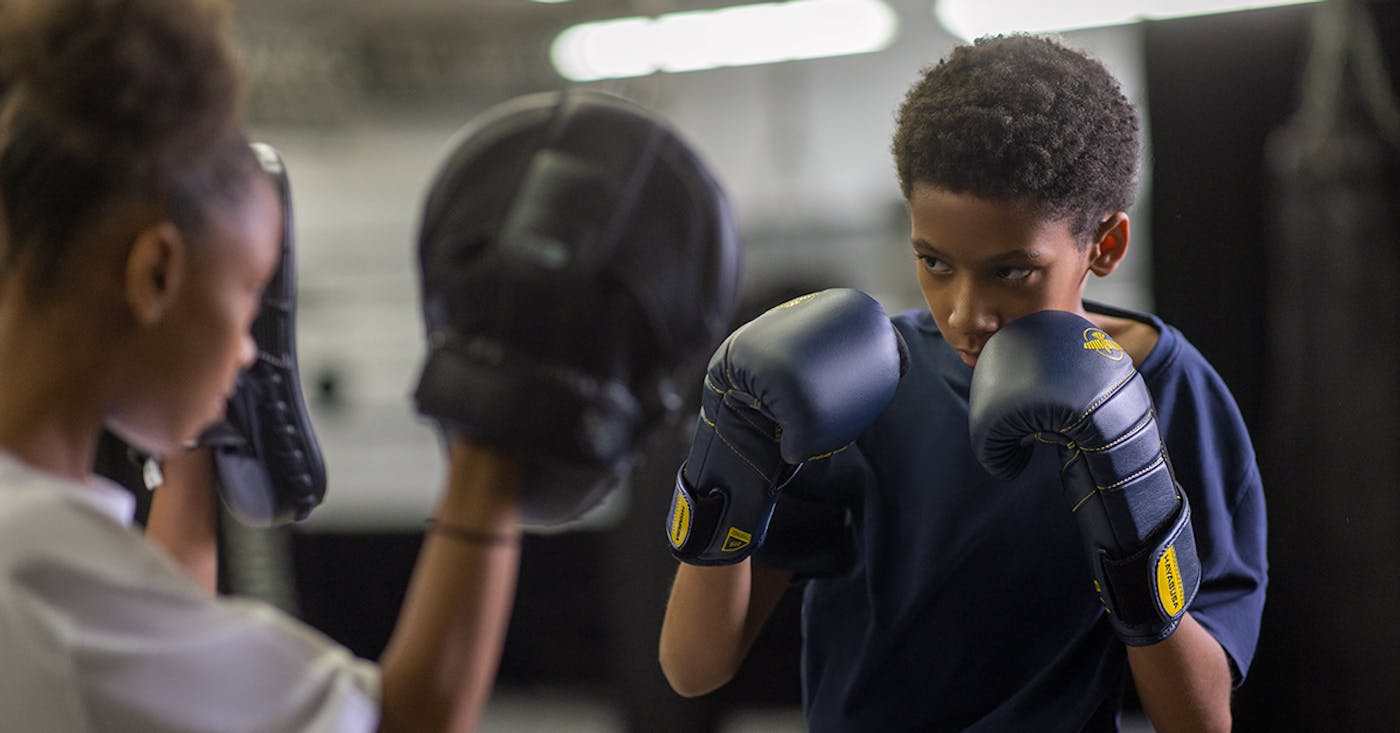 Physical Activity For Adolescents: Is Your Teen Ready to Box?
Instead of asking, "how old do you have to be to box," it may be more helpful to assess how age can impact every individual body's physical abilities. As our bodies mature, introducing consistent physical activity is essential for promoting physical and cognitive development and well-being. 
The CDC recommends 1 hour of daily moderate to vigorous activity for adolescents aged 6 through 17. This daily recommendation should include:
Aerobic exercise – Aerobic exercise or movement that increases heart rate includes high-intensity activities like running. The CDC also specifies martial arts as an option.   
Bone strength – Bone strengthening exercises can include running, jumping rope, or engaging in sports that require rapid directional changes. 
Muscle strength – Muscle strength can be developed with resistance-based workouts, yoga, or climbing activities. 
Each of these components serves to create a solid foundation to start boxing training so that you can experience all the various benefits of boxing. If your child or teen checks each of these boxes, they'll likely be off to a strong start in this combat sport.
Boxing and Kickboxing Age Recommendations by Style
As a form of martial arts, boxing is a blanket term that may encompass several codified combat systems. Here are our recommendations for the minimum starting ages to begin training in four popular styles: 
Muay Thai – Muay Thai is a Thai art form dedicated to refining muscle memory, and some Muay Thai academies accept trainees as young as 5 years old. It is an appropriate martial art to adopt in the earlier phases of brain development and helps young athletes absorb moral values like respect and discipline.
Kickboxing – Young kids can start kickboxing as young as 5 or 6 years old. Because this style does not often involve one-on-one contact, it's often less technical than youth boxing. Physically, kids at this age are still developing motor skills, and kickboxing can assist in building those neural pathways. 
Boxing – 7-9 years old may be a prime age to start recreational boxing. Kids at this age are often high-energy and able to perform more vigorous physical activity. Moreover, it teaches younger children the ability to better follow directions, which lets them cultivate the tactical side of boxing. Once they turn 9-10 years old, they may be able to get on the combat side of the sport.
Brazilian Jiu Jitsu – Because Jiu Jitsu is a generally more technical and challenging martial art, youths are encouraged to wait until 13 to 16 years old to begin practicing this style. Children can begin training in BJJ as early as 4 years old. However, some parents may find their child needs more time. While the technical and more challenging aspects of the sport are better suited for youth around the age of 10, some younger children with keen listening skills and a love for martial arts can succeed with private instruction. 
For younger athletes and anyone who's just starting out, a mixed martial arts class can be ideal venues for testing physical, mental, and behavioral abilities as they find the style that resonates most.
What Gear Do Young Boxers Need to Start Training?
At any stage of development, choosing the proper boxing apparel and protection may depend on the training intensity and skill level. That said, there are some recommendations for giving young athletes the apparel best suited to them by age:
Ages 5 through 6 – In most cases, ultra-young athletes are usually more interested in expending energy rather than competing. However, it is incredibly important that they keep their hands and wrists well-protected in order to avoid severe injury down the road. The best investments for children training this young are proper protective gear, such as Hayabusa's S4 Youth Epic boxing gloves with built-in splinted wrist support and knuckle padding.
Ages 6 through 11 – At this age, a young boxer may become comfortable in their training. Now is the time to add coaching and training pads to help them improve their form and strength. For this type of training, it's best to have dedicated training apparel and protective equipment, like Hayabusa's S4 Youth boxing gloves and S4 Youth shin guards.
Ages 12+ – Once adolescents can begin exploring one-on-one combat, like sparring,  increasing their protection in tandem with their blossoming physical ability is imperative. Teens training should have headgear, youth mouth guards, and youth shin guards to keep them stable as they hone their technical acuity.
What age is too late to start boxing?
The short answer is that it's never too late to start boxing. Some will argue that starting at a younger age will give you an advantage in competitions, although boxing tournaments offer brackets for boxers of all ages, so there is nothing to worry about.
In fact, there are several studies that cite boxing as a phenomenal form of cardiovascular exercise to improve overall heart health for those over the age of 40. 
Prep for Each Milestone with Hayabusa
Whether the young athlete in your life is just giving boxing a try or intent on training for the long haul, proper technical apparel is a critical component of boxing training at every age. Hayabusa designs timeless combat equipment with both veteran athletes and the next generation of athletes in mind. 
Whether your priority is to fortify young trainees against future injuries with youth boxing hand wraps or inspire budding fighters with youth boxing gloves used by beginners and pros alike, choose Hayabusa to join them on their boxing journey, whenever it may begin.