A jab is one of the fundamental punches every fighter learns. Simplistic in form, it can pack quite a punch when executed well. If thrown correctly, the jab can be a quick way to surprise your opponent with a fair amount of power — all while using your shoulder to protect yourself from unforeseen overhands. 
The jab is a crucial technique to learn early on and becomes vital during your training, sparring, and fighting. In this short video, martial arts champion Gabriel Varga explains the fundamentals of a jab. He says, "A punch is much more than just extending your hand forward and back." As you will see, Gabriel demonstrates the position of knees and hips as well as the benefits of turning the hand as you extend.
In addition to using Hayabusa's boxing hand wraps and T3 Boxing Gloves, Gabriel also wears the Men's VIP T-Shirt and Men's Layered Performance Shorts while his fighting partner opts for the Icon Fight Shorts.
Technique Overview of a Jab
Every punch starts with establishing the proper stance. For a jab, you'll want to have your:
Knees bent
Feet shoulder-width apart
Hands up
It's important to stay light on your feet when fighting rather than locking out the knees in a set position. Also, by standing with feet shoulder-width apart, it frames the body to deliver and receive punches effectively. When the feet are too close together or too far apart, it can throw off your balance. Once you're in position:
Turn the hips, extend the hand
Turn hand palm facing down
Shoulder up to protect the jaw
Other hand guards your face
The jab is a quick out and in motion. As soon as you throw the punch, return the hand to defense mode and protect the face. Investing in headgear for boxing also offers another safety layer. And, like with the legs, be careful not to lock out your arm when throwing a punch. It can cause undue strain and quickly lead to injury. You'll want to secure a tight fist and keep the extension firm but forgo overextending.
Learning technique is important to create a solid foundation. Practicing jabs and other fundamental punches with the use of boxing bags or with a sparring partner is always good to review and incorporate as part of your everyday workout.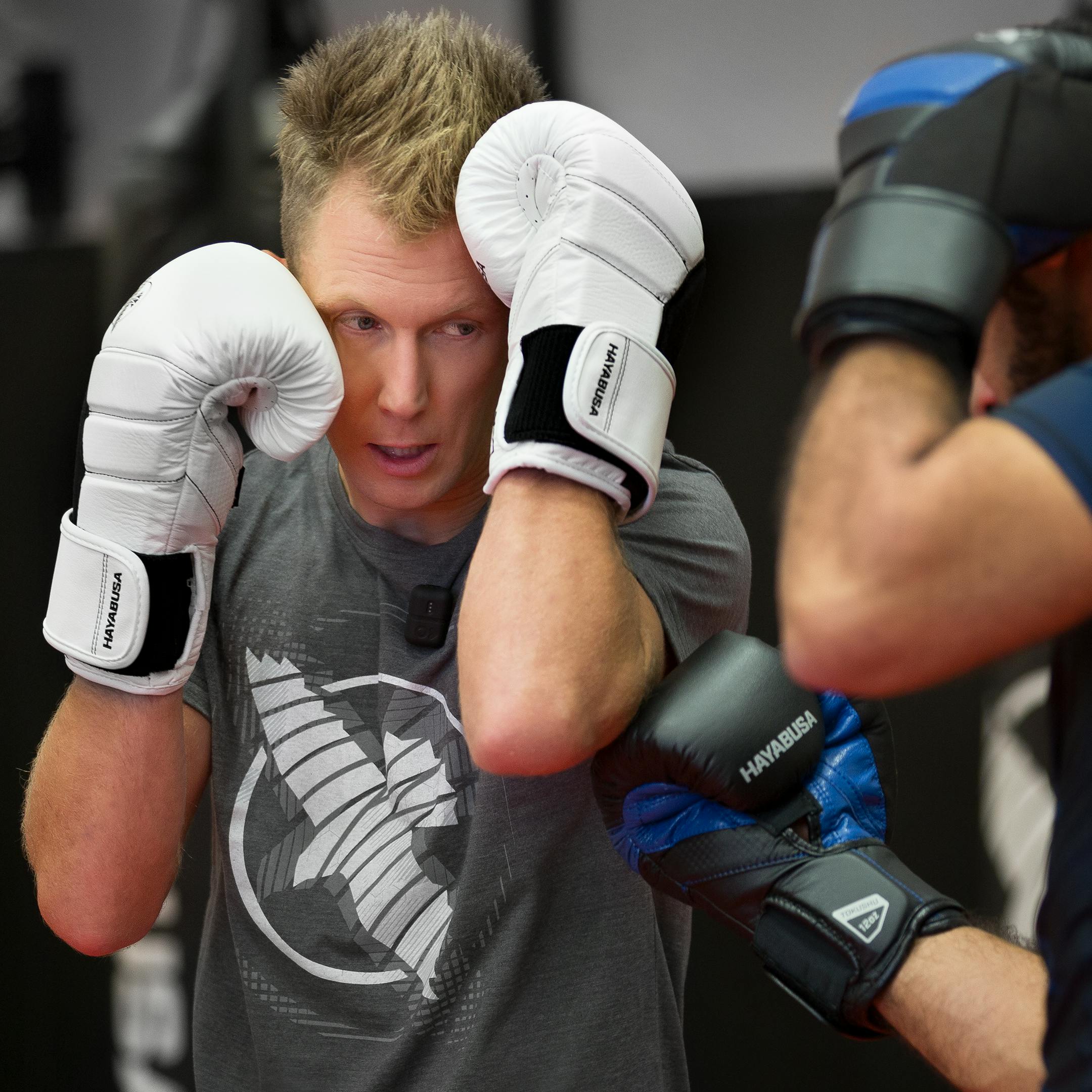 Tips to Keep in Mind When Throwing a Jab
In addition to practicing the basic placement of the jab punch, it's also important to keep the rest of the body engaged. Boxing has as much to do with your torso and legs as it does with your arms and fists. 
Rotate the Arm
When throwing a jab, you'll want to follow through on the rotation. The entire arm - from shoulder to fist - rotates with the punch, which is directed by the angle of the elbow. Rather than swinging up and out, the jab goes and out and in.
Brace the Core
Boxing requires bracing your core and breathing through the punches. Tightening your stance helps to protect you from injury and prepares you when on the defensive. Exhale through every punch you throw, and inhale and expect one back. 
Stay Agile
Agility is as important as power when throwing a jab. While you want to lean into your punch, avoid launching forward full force. Though putting your weight into can be impactful, it also puts you off balance and can easily tire you out during a fight. Instead throw quick, solid punches and move around, staying light on your feet.
After you have the basic techniques down and get comfortable with the punch, you can start switching up your workout with different iterations. Alternate between jabs, hooks, and uppercuts in combination to improve quickness and work on your form. From there, you can then work on speed and power. 
In addition to working with punching bags or sparring with a partner, it's necessary to condition through regular exercise. For instance, to increase speed, exercises like resistance band work, plyometric pushups, and burpees will help with your explosiveness and strength. It's also important to buy the right boxing gear to keep your hands and wrists protected. 
What Boxing Gloves Should I Buy?
Choosing the best boxing gloves is determined by each fighter and is measured by glove size, weight, and purpose. In addition, it's important to have quality boxing hand wraps, headgear, and appropriate clothing apparel like MMA shorts when training or fighting. The Hayabusa Boxing Gloves Guide walks through all the elements you'll want to consider when selecting the right pair for you.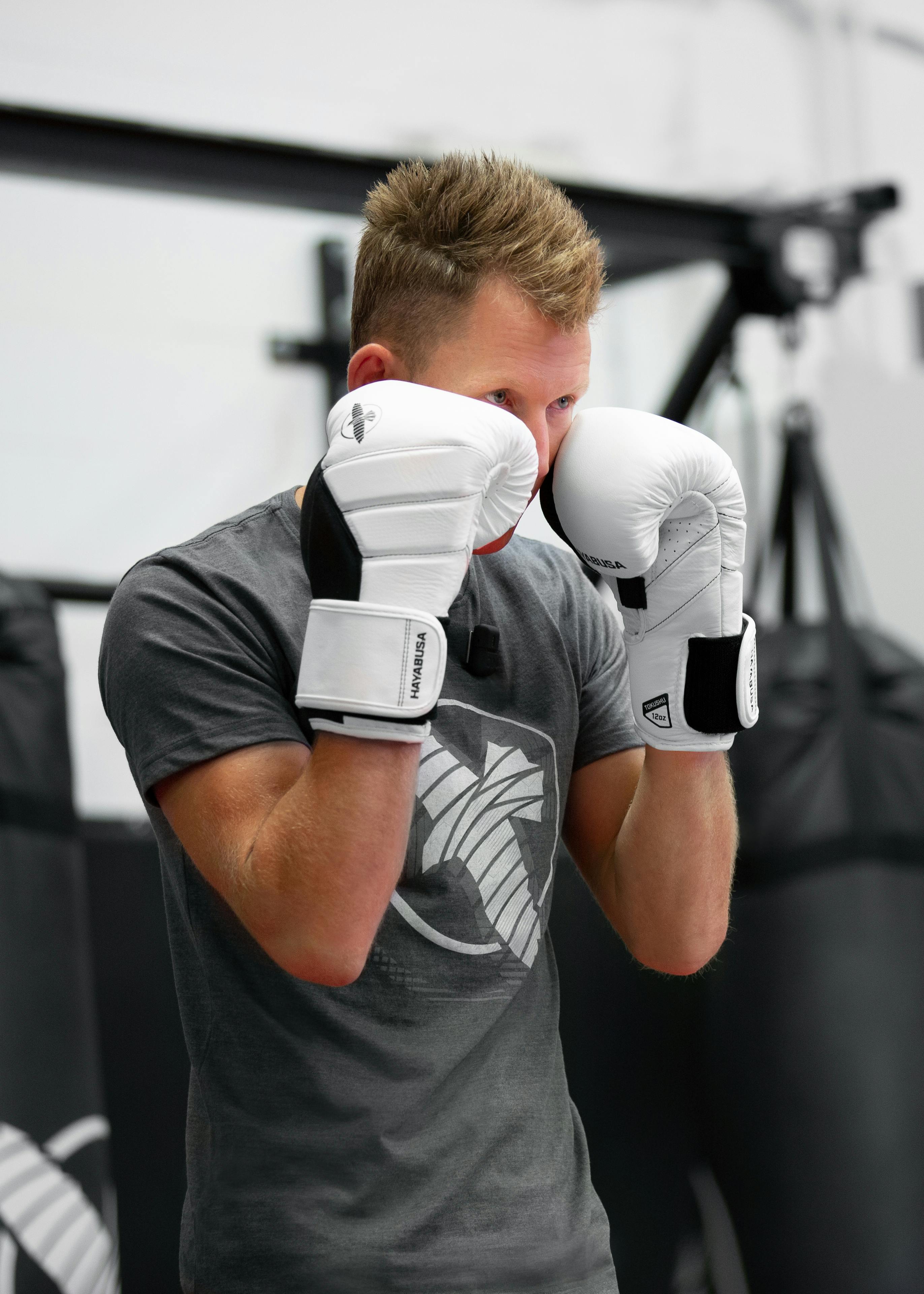 About the Series:
The Striking Basics series is all about the fundamentals. Gabriel Varga and Hayabusa developed this series to provide value to all fitness combat practitioners. Whether you have aspirations to compete or not, this series is for you. 
We cover a range of techniques, such as the Jab, Cross, Hook, Breathing, kicks, and more. If you're a coach who wants to inspire students to have a stronger grasp on the fundamentals, consider sharing this series.
About Gabriel:
Gabriel Varga is an impressive martial artist, who started out in karate as a child before switching to kickboxing as a teen. As a multi-world champion, he is well-respected in the fighting world, and his knowledge, demeanor, and overall approach to life are inspiring. His achievements include:
6x Pro World Champion
2x Glory Featherweight Champion
Bellator Featherweight Champion
Glory Contender Tournament Champion
Hero Legends Champion
WKN World Lightweight Oriental Champion
WKF World Light Welterweight K-1 Champion
2x ISKA Amateur World Champion
We encourage you to follow him and his journey, even if you're not into kickboxing we guarantee you'll learn something and admire him as much as we do.
Instagram:  GabrielVargaOfficial
YouTube:  Gabriel Varga
Twitter:  GVargaOfficial
Facebook:  GabrielVargaOfficial