Boxing has many benefits, though like any sport, there are risks involved that fighters should be aware of before stepping into the ring. Concussions in boxing are one of the biggest safety concerns due to the frequency of high-intensity punches involved. That's why men and women boxing rely on safety gear to keep them protected. 
When looking for the best safety gear for boxing, it's important to consider all areas of impact in addition to the head. This includes the face/mouth, shin, and groin, all of which come under attack in a boxing fight and even when sparring as part of regular boxing training.
In this blog, we will review how common concussions are in boxing, the best boxing safety gear, and tips for preventing common injuries and maximizing safety in boxing. Moreover, we will focus on how, with an impressive lineup of Hayabusa Protective Equipment, you can rely on premium boxing gear designed with quality and durability in mind to minimize the risks of impact.
Tips for Maximizing Boxing Safety 
Regardless of whether you're a boxing trainer, a fighter going through your everyday boxing training routine, or brand new to the sport, you'll want to be well-equipped for the fight. Hayabusa boxing mouthguards and headgear maximize your safety when absorbing punches. 
However, you'll also want to follow these tips to ensure you are well-prepared for a boxing punching bag workout and/or boxing training with a partner:
Establish a secure fit: When it comes to your hand wraps and Hayabusa boxing gloves, headgear and boxing mouth guards, opt for a customized fit that feels tight enough to stay in place but comfortable enough to move and breathe freely. Men and women's boxing gloves come in various sizes and weights, so make sure to check out our best boxing gloves guide to get your best fit.
Keep your eyes up: There's nothing worse than a surprise punch because your head is down. In both offensive and defensive positions, keep your guard and eyes up to prepare for any sudden movements and attacks. That's why it's important to have head gear that doesn't inhibit your range of vision in any way; otherwise, you may find yourself too late to fend off a quick punch.
Don't skimp on protective gear: Boxing safety is not an area to compromise quality. Ensure you have the best boxing mouthpieces, coaching gear, MMA training equipment, whatever you need to fight. Always keep ergonomics, durability, and indestructibility in mind. Fighters of every level rely on Hayabusa protective equipment to keep them safeguarded as they take their fighting stance.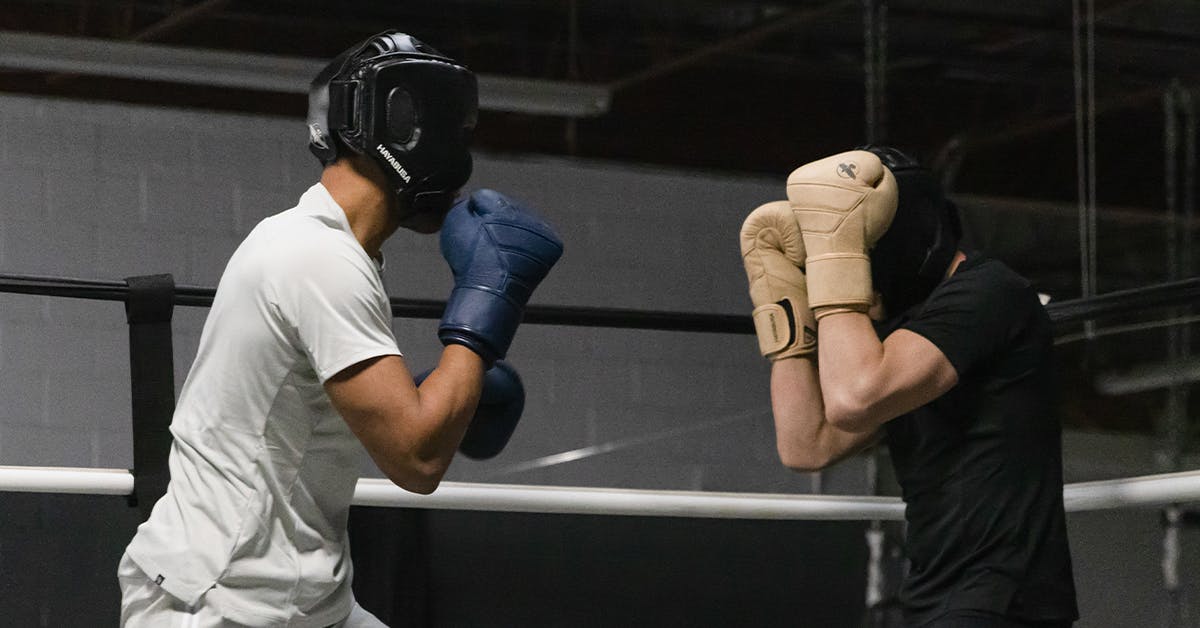 What Fighting Gear Is Needed for Boxing Safety?
Research has shown approximately 90% of boxers suffer concussions or other types of brain injury due to the repetitive trauma to the head. Though amateur fighters are less likely to experience a concussion than competitive boxers, protection from the chance of a traumatic brain injury is necessary for all. 
Fortunately, from headgear to shin guards, and MMA mouthguards to boxing groin protection, plus everything in between, Hayabusa has your back by providing elite gear to keep you protected. The following highlights the fighting equipment necessary for boxers at any level to stay safe.
Protect Yourself from Concussions: Best Headgear for Boxing
High-quality headgear is non-negotiable for fighters as they train and engage in combat. A boxing helmet is an essential part of any boxing training equipment. No matter which level of fighter you are, here are three products ranging from beginner to pro designed to protect the head.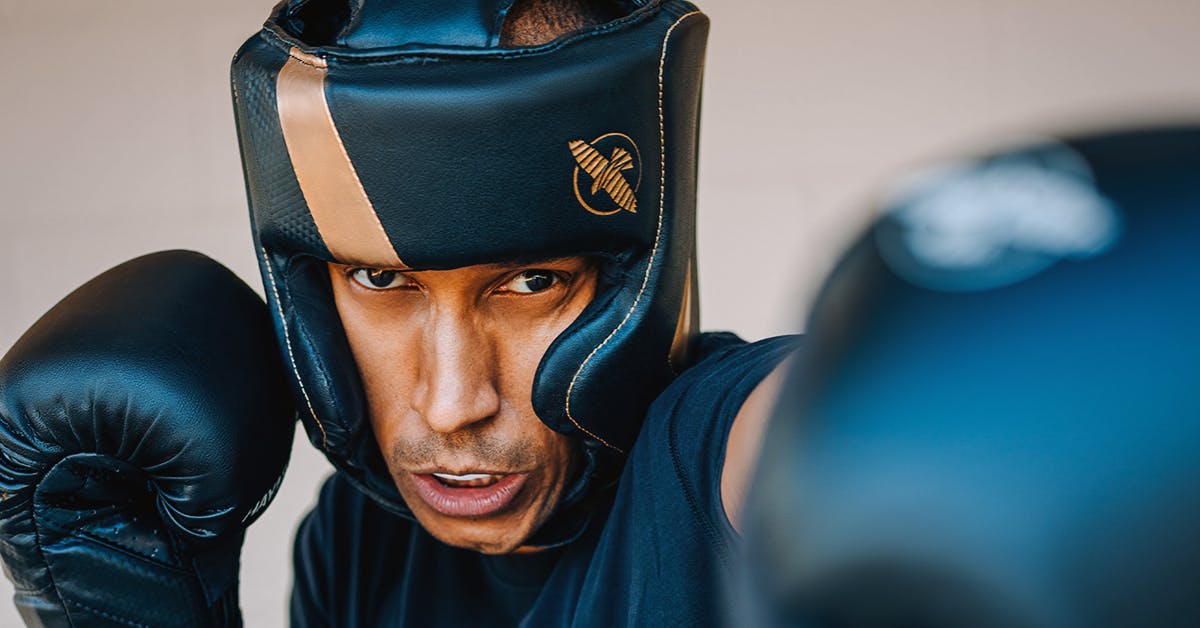 Since Hayabusa specializes in premium headgear, there's more than one option for fighters to choose from. The T3 Boxing Headgear is suitable for all boxer levels and embodies a Mexican-style design with maximum protection sans any bulkiness. The compact design is sleek and lightweight with a customizable fit to prevent shifting during sparring.
Similarly, the T3 MMA Headgear offers full coverage protection without any bulkiness to slow you down. It's also designed for beginner to high-level MMA fighters and boxers. The patented T-Cross® closure ensures a customizable fit while the multi-layered technology foam allows you to lessen the impact as you absorb punches. Also, details like open top and mesh ear coverings keep you cool by ventilating heat, and the soft inner lining is smooth and comfortable as you fight.
Designed specifically with high-level, professional boxers in mind, the top-grain cowhide leather and silky nylon interior lining keep the headgear comfortable and cooling when sparring. Plus, curved cheek protectors and comprehensive padding coverage allows for complete facial comfort and protection without limiting the range of vision.
Protect Against Trauma to the Mouth
The Combat Mouth Guard allows for exceptional breathability and protects against possible injury to the jaw, teeth, lips, and gums. Though Hayabusa headgear keeps the face well-protected from facial injuries, there's still an opening for visualization and ventilation which means the mouth is left vulnerable. Using mouth guards for boxing is as important as any other protective gear, and the latex-free silicone gel of the boxer mouth guard guarantees a precise fit.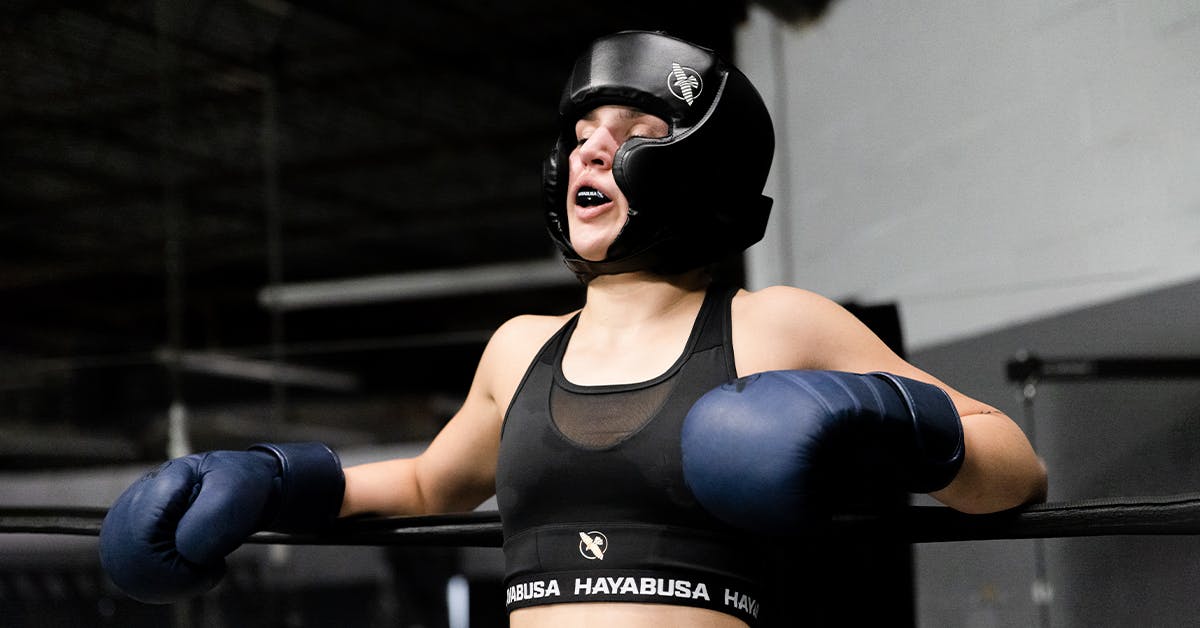 Secure Leg and Shin Safety
When you're gearing up for rigorous full-body training and/or fighting, adding a pair of premier shin guards to your protective gear is essential. They help to protect against injury to the legs and shins. MMA shin guards and muay thai shin guards are valuable to have when engaged in combat. The multi-layered padding of the T3 Shin Guards conforms to the leg to better absorb impact and protect the shins. Plus, they're lightweight, adjustable, and virtually indestructible thanks to the premium Vylar® exterior.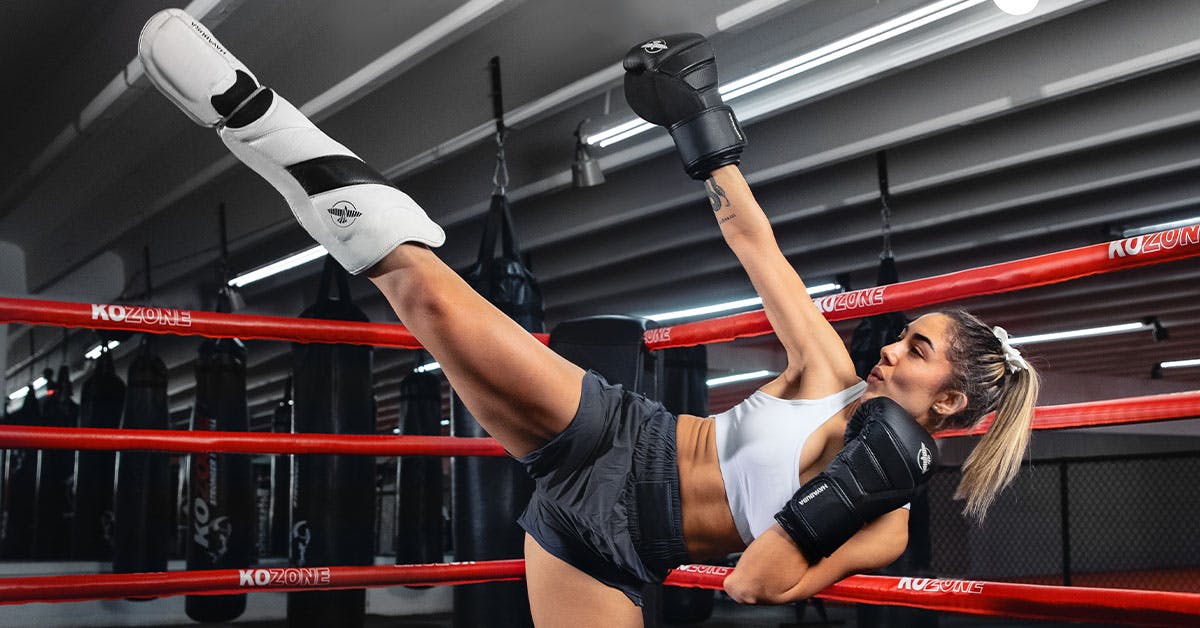 Shield the Groin from Injury
The groin guard was developed with a reinforced padded cup as part of the full coverage protection to shield impact to the hips and kidneys. For boxing and MMA groin protection, Hayabusa worked with first-class boxers to create an ergonomic design for the Pro Boxing Groin Protector that's sleek and lightweight. Additionally, the lace closure and dual leg straps achieve a secure fit with soft mesh lining for breathability as you move. 
Stay Safe & Prevent Common Boxing Injuries with Pro Boxing Protective Gear
Boxing requires being aware of the potential dangers, but there are also great mental and physical health benefits of boxing as well. Boxing provides stress relief, builds strength, and improves confidence. It helps with agility, endurance, and overall improved heart health. 
It's not about how hard you can throw a punch, but perfecting your form, precision, and ability to stay light on your feet. Amp up the fighter in you by investing in the best boxing gloves, best boxing mouthpieces, and other premium boxing equipment and safety gear available. That way no matter what comes your way, you'll be more than ready.