Star Wars™ fans and boxing fighters unite - the Hayabusa Star Wars boxing gloves are here! Channel your inner champion and find the pair that speaks to you. With this new collection, you'll experience the same unbeatable quality of the original Hayabusa T3 Boxing Gloves, which include premium knuckle protection and wrist support, but now with designs to emulate your chosen Star Wars character. 
Ideal for boxing training, MMA fighting, or your next workout routine, this boxing gear has all the galactic inspiration you need. Let the Star Wars Games Begin!
Bounty Hunter Brawl: Star Wars™  Boba Fett Boxing Gloves & Hand Wraps 
From a young age, legendary Star Wars™ bounty hunter Boba Fett quickly developed a to-be-feared reputation among his opponents. Best known for his crafty fighting skills and clever strategy, he's a deadly contractor for the Empire, making him the most fearsome bounty hunter in the galaxy. 
To honor his intimidating presence, we wanted to create champion boxing gloves and hand wraps that did his character justice. From the armor weathering and wrist rocket to the instantly recognizable helmet dent and Mandalorian "mythosaur" emblem, fans who slip on these Boba Fett boxing gloves will instantly feel like they embody Boba Fett's strength.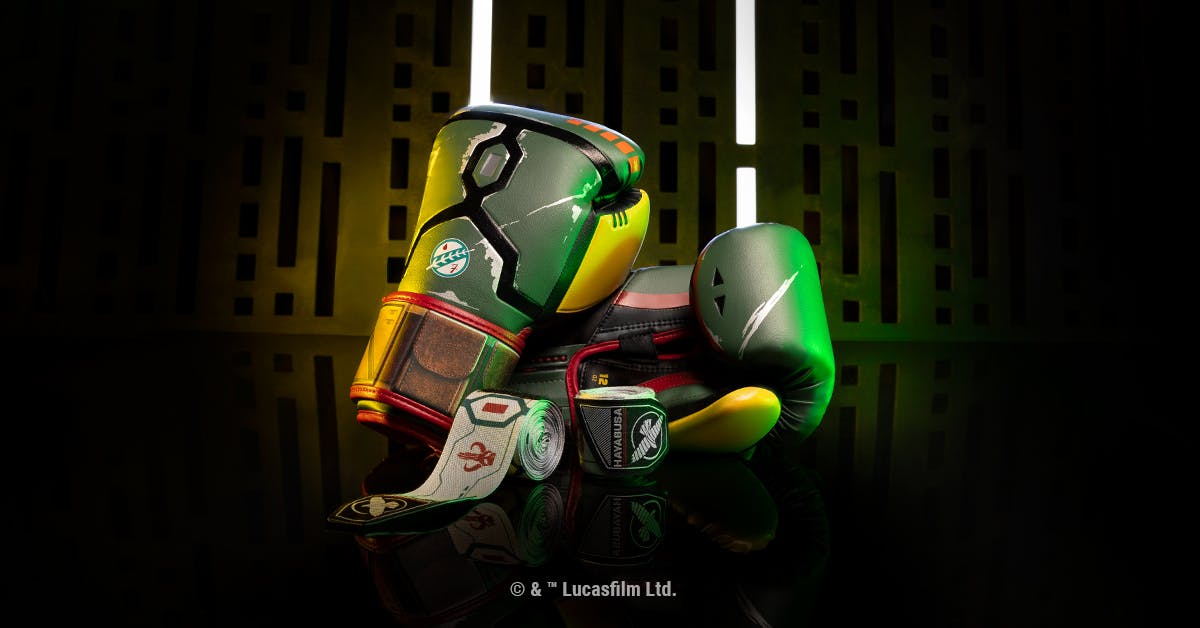 Harness the Dark Side: Star Wars™ Sith-themed Boxing Gloves & Hand Wraps 
The Sith™ are symbolic fixtures in the Star Wars™ galaxy, dark in their attire and attitude. For those who want to feel the Force every time they step into the ring or while they are punching at a bag, these boxing gloves and hand wraps fully embrace the power of the dark side.
Inspired by several Sith Lords, these fighting boxing gloves and hand and wrist wraps will excite long standing Darth Vader and Darth Maul enthusiasts. The palms of the Star Wars Sith boxing gloves reflect a metallic red to mirror the distinctive shine of red lightsabers. Then, flip the gloves to the front, where "The Force'' is written on the top, while "Power - Victory - Passion - Strength" is stitched on the fingertips in Aurebesh.
To complement the design, the hand wraps highlight the Star Wars Sith symbol. And no matter which character you decide to represent, you'll want to know how to wrap hands for boxing properly to keep them protected.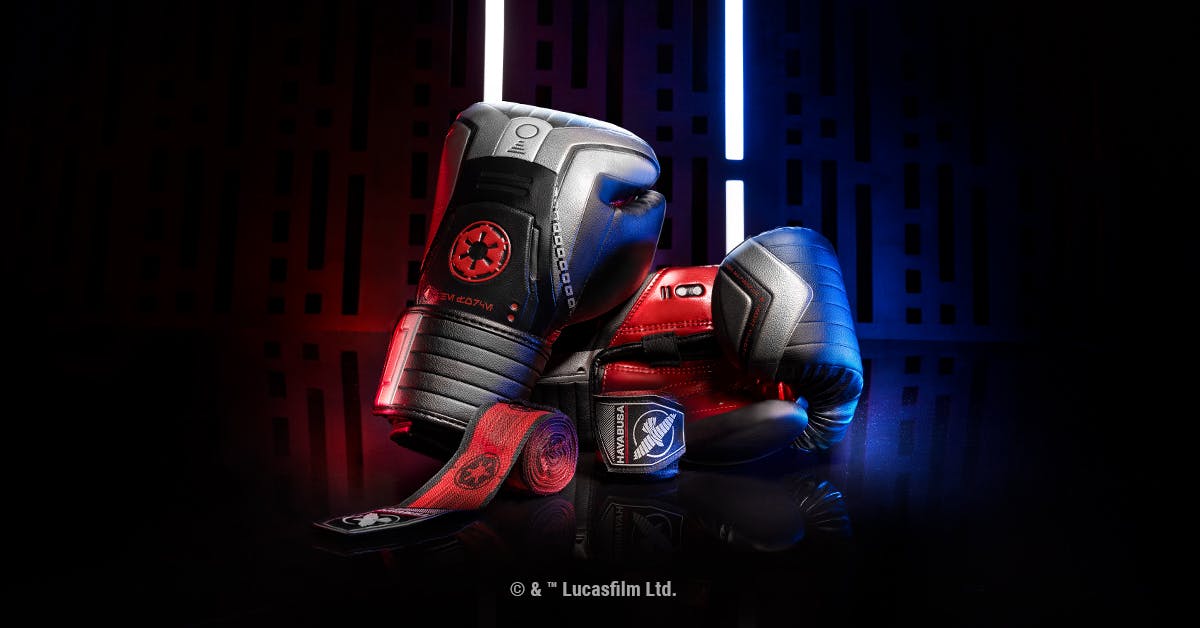 Join the Galactic Fight: Star Wars™ Trooper Boxing Gloves & Hand Wraps 
Finally, let us not forget about the galaxy's fighting foundation. As the backbone of the Galactic Empire, it was only fitting to include three generations of troopers - stormtroopers, First Order stormtroopers, and Republic Clone Troopers - when creating the next phase of Hayabusa boxing gloves.
We chose a matte black material to contrast with the white base, which reflects the stormtrooper white armor plating and black under armor aesthetic. Then, extra detail was included with the hand wraps. The design of these Star Wars™ Trooper boxing gloves is inspired by Clone Trooper and stormtrooper helmets, blasters, and of course, the symbolic TK-421 designation.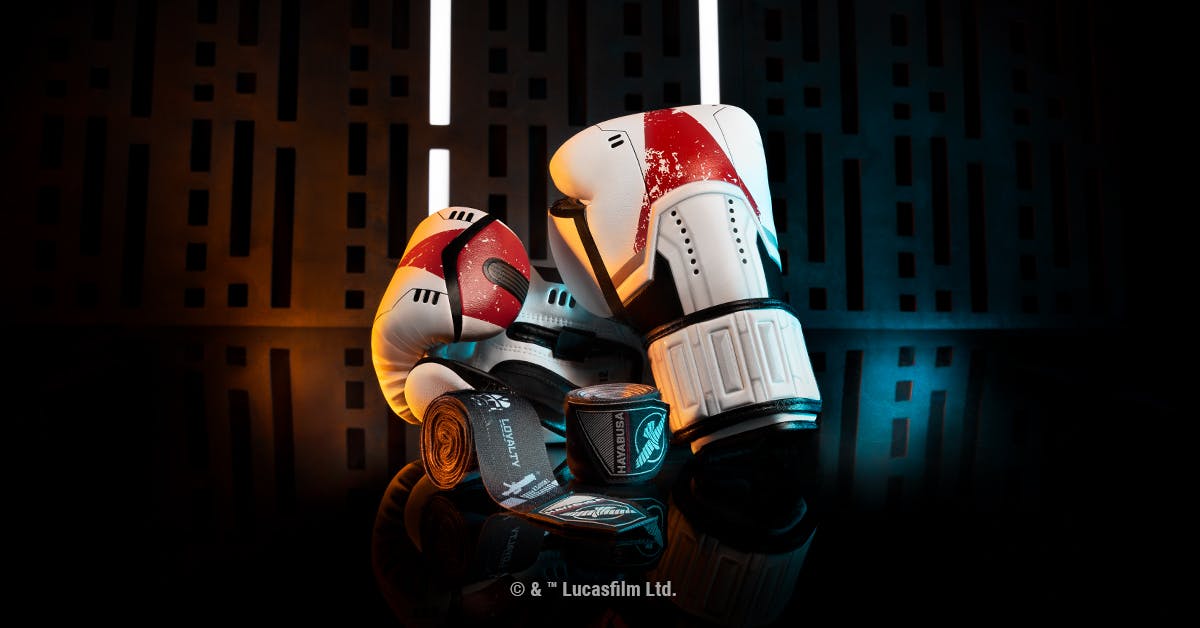 Step Into the Ring with Hayabusa's New Star Wars™ Boxing Gloves 
It's easy to get into combat mode with our new Star Wars™ boxing gloves collection. Channel your love for Star Wars and use our Hayabusa boxing glove size chart to ensure the perfect fit to protect your hands, knuckles, and wrists. Don't forget to pair your chosen boxing gloves with your favorite Star Wars accessories.
With Hayabusa boxing gear, you'll know you're equipped with the best boxing gloves in the galaxy.