Finding the right training equipment is important, especially when it comes to boxing gloves, whatever your level of experience may be. Poorly fit boxing gloves can throw off your form and possibly lead to injury. 
You want a fit that's snug but not too tight, large enough to protect your hands but not so clunky it weighs you down. So, how do you determine the best weight for boxing gloves? We'll take you through various glove weights, types, and materials to secure the best fit.
How to Choose the Right Size Boxing Gloves
When choosing the right size boxing gloves, they need to cover the entirety of your hands, from the fingertips to the wrists. You can measure your hand size by using a flexible, plastic tape. Wrap the measuring tape around your hand at the knuckles to get the circumference. Though exact sizing differs depending on glove manufacturers, here's a general guideline to follow:
6 to 7.5 inches for small gloves
7.5 to 8.5 inches for medium gloves
8.5 to 9.5 inches for large gloves  
9.5 inches and above for extra-large gloves
From there, it comes down to the weight. The more padding the glove has, the greater the weight will be. This is important when considering force absorption and knuckle protection when punching. You want to have a glove fit that delivers accurate, impactful punches, safety for your hands and wrists is a priority. 
How Heavy Are Boxing Gloves?
Boxing glove weights typically start at 10 oz. and go up to 18 oz. For bag and pad work, fighters often choose from 10-, 12-, or 14-oz. gloves. Lighter gloves aid with quickness and precision while still maintaining enough padding to protect your hands. 
On the other hand, when selecting boxing gloves for sparring, you'll want a weightier option. The additional force delivered by both you and your partner calls for extra protection to help soften the blow. Look for gloves between 16 and 18 oz. to give your wrists, knuckles, and hands added padding.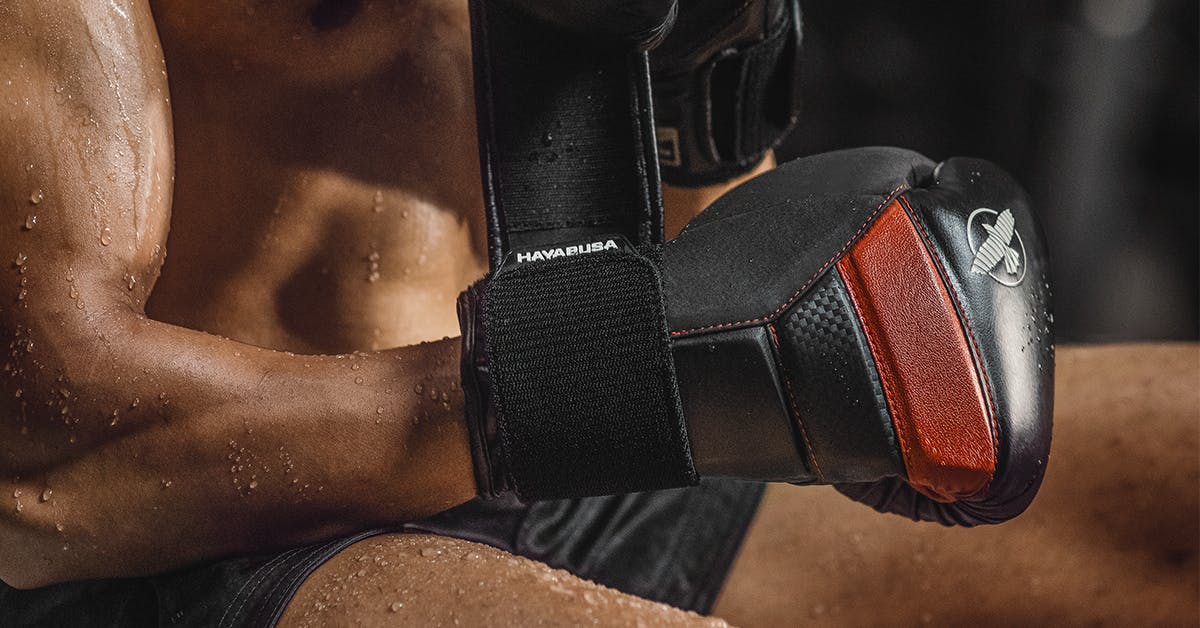 How Many Ounces Should My Boxing Gloves Be?
Now that you have an idea of how heavy boxing gloves are, choosing the specific size and ounces is dependent on body weight and hand size, regardless of gender. You'll want bigger gloves, the heavier you are as estimated below: 
< 126 lbs. = 12-14-oz. gloves
127-160 lbs. = 14-16-oz. gloves
161-180 lbs. = 16-18-oz. gloves
181 lbs. and over = 18-oz. gloves
Keep in mind these are only recommendations when finding your perfect fit. You'll feel it if the weight isn't quite right. Also, when considering the best weight for boxing gloves, you don't have to be limited to just one pair. Think about how you'll be using them most. 
If you're training, you may want a lighter pair for bag and pad workouts, and a heavier pair when sparring with a partner. Additionally, when training for competition, each division requires specific glove weights based on weight class. Size, use, and competition regulations should all be taken into account when deciding the best weight.
Bag Gloves
When engaging in heavy bag, mitt, and/or pad work, protected bag gloves with adjustable wrist support cover the entirety of the hand ideal for everyday training. They provide heavier protection for the knuckles for repeated punching, but without as much shock absorption as sparring gloves.
Sparring Gloves
With sparring gloves, you want enough weight to soften the blow of harder punches, plus a design that offers mobility as you box. They'll be heavier than bag gloves, and you'll still want a fit that offers full protection for both your hands and wrists. 
Training Gloves
Competitive fighters often opt for training gloves, as they provide benefits of both bag gloves and sparring gloves. They are heavy and sturdy enough for heavy bag workouts, yet designed to absorb shocks when sparring with a partner. Though it's best to reserve separate boxing gloves for each situation, training gloves may be a good option while you decide which you prefer.
Competition Boxing Gloves
Competition boxing gloves are based on weight class assigned by the organization host. You'll want to confirm specific regulations, as they may differ. A lighter boxing glove may be your preference in order to move quicker, a heavier one will help to maximize the brunt of your punches. Finding a happy medium between the two is key.
Does a Heavier Glove Hit Harder?
The impact of a punch resides in the fighter. Still a heavier glove delivers more impact. Additional glove weight behind a well-landed punch is certain to be felt more than one that's lighter. However, it's not boxing glove weights alone that determine the intensity of punches. Accuracy, speed, and consistency all factor into the mix.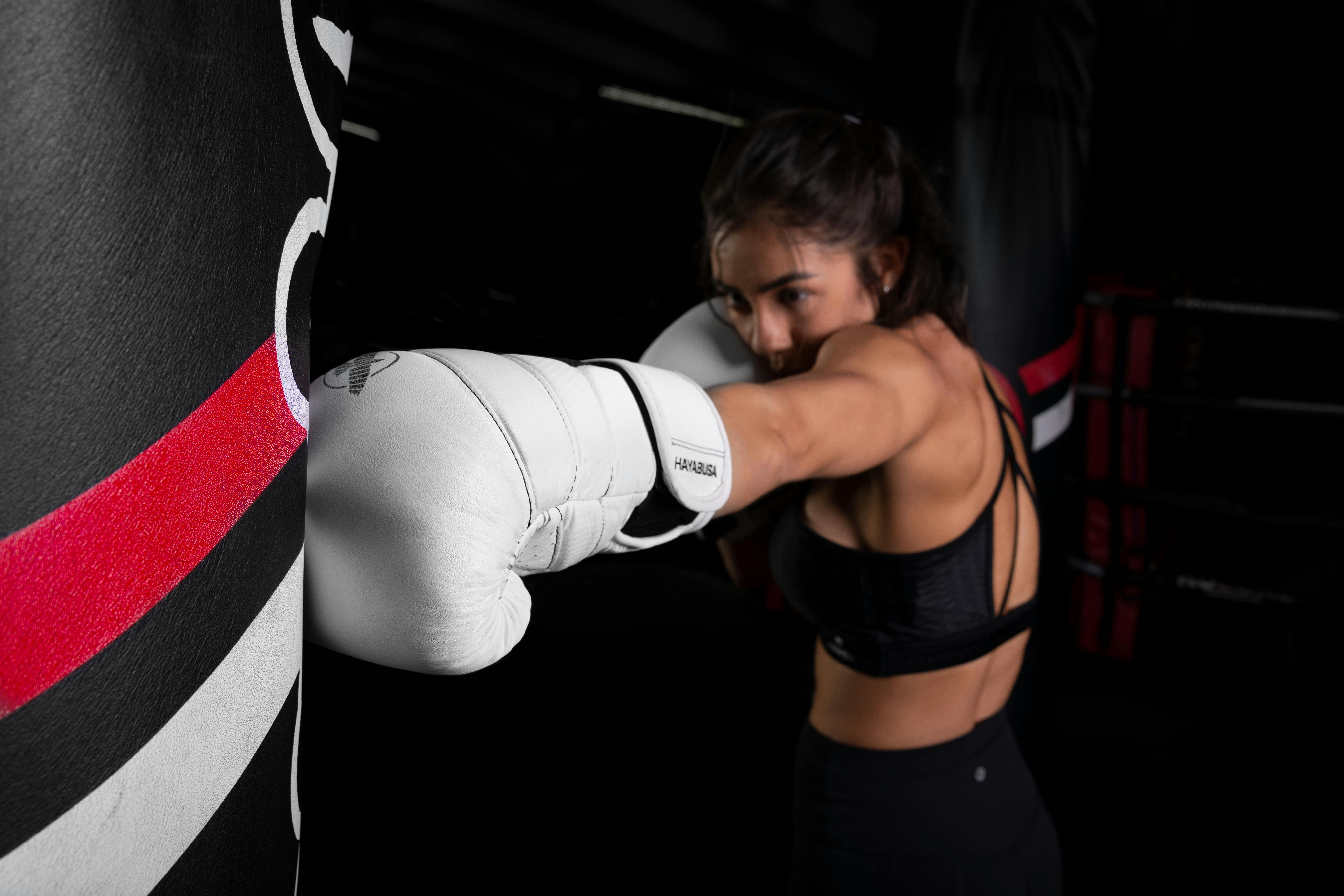 Boxing Gloves with Laces or Velcro?
Once you've decided on boxing glove weights, the question then becomes: Laces or Velcro? Some may prefer boxing gloves with laces for better wrist protection since they can be tightened without the risk of coming loose. However, Velcro boxing gloves provide ample wrist support and padded comfort laces don't provide. Both have their benefits, though you'll need an extra pair of hands when lacing up your boxing gloves versus velcroing them on yourself.
Leather or Vinyl Boxing Gloves?
Vinyl boxing gloves have improved over the years, but they simply don't have the longevity of a quality leather pair. Leather boxing gloves are a smart investment for avid fighters who want their training equipment to last. 
We take great care in selecting the materials for our boxing gloves to create the high-quality products built to endure. Our Hayabusa T3 Boxing Gloves are made with Vylar® Engineered Leather, while our Hayabusa Pro Boxing Gloves are crafted with supple top-grain cowhide leather. Regardless of the kind of boxing gloves you need, you can rely on the fact ours are made with premium materials and are ergonomically designed to give you the fit and comfort.
Choosing the best weight for boxing gloves is key, but there are many other factors to consider when finding the right pair for you. Invest in the gold standard of boxing equipment with Hayabusa so you can perform your best.