Martial arts is for everyone, from beginner to advanced and young to old. Though there is a wide range of practices that fall under the martial arts umbrella, boxing and jiu-jitsu are typically the top favorites, especially among youth. They're the perfect activities to match their seemingly endless amounts of energy. 
In this blog, we'll talk about the benefits of martial arts for kids, as well as what they'll need for boxing and/or jiu-jitsu class. Igniting their fighting spirit early on can help kids build mental and physical strength and stamina. They already need exercise, so why not focus it on something that will benefit them in all aspects of life?
Benefits of Martial Arts for Kids
You may be surprised to learn the starting age for boxing and other martial arts, though the training and lessons acquired at a young age can be carried into adulthood. Each discipline is different but all are rooted in mastering fundamental movements. That means anyone can start at any time, regardless of age or skill level.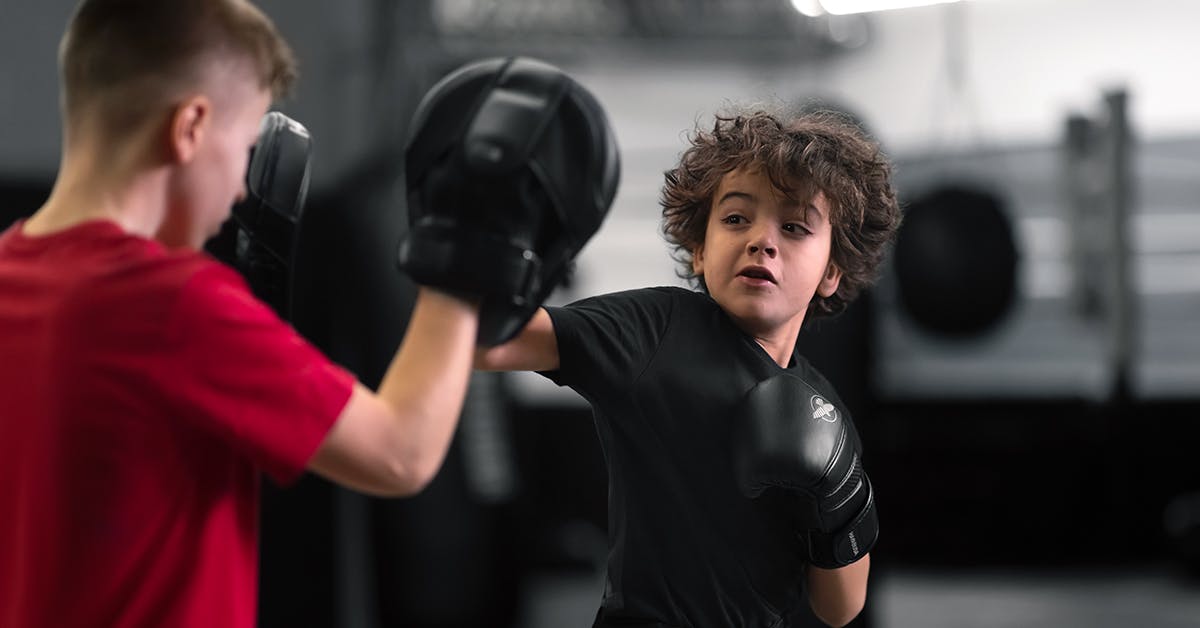 There are numerous benefits of martial arts for kids, in particular, to help them in their formative years. These benefits encompass the mind, body, and spirit by:
Encouraging an Active Lifestyle
To combat sedentary behavior many kids experience today, martial arts provides cardio exercise that is fun and engaging. It helps them develop strength and flexibility, as well as improves their coordination and agility. Adding this type of physical activity as part of a normal routine also increases their energy and improves their mood throughout the day, even after class is over.
Developing Social Skills
Kids martial arts classes mean they get to interact with others their age and develop a sense of camaraderie. Though not deemed a team sport, martial arts, like boxing and jiu-jitsu, embrace the power of community. Kids are motivated and encouraged by their teachers, parents, and peers as they continue improving their practice and enjoying the sport.
Building Self-Esteem and Confidence
Rather than focus on competitiveness, martial arts emphasizes personal growth. As kids advance in their skills and technique, their self-esteem will do the same. They'll feel stronger, quicker, and more confident with every class, knowing it's their dedication that's helped them reach the next level.
Teaching Discipline and Respect
The benefits aren't limited to the physical aspect alone. Martial arts are also highly impactful for a child's mental health. Since establishing fundamentals is key, it teaches kids about patience, perseverance, and respect for others as they learn and develop on their own path. 
In boxing, punches and kicks are delivered with purpose versus uncontrolled aggression. Whereas, with jiu-jitsu, submission holds require self-awareness and strategy. Overall, martial arts teaches kids to listen better, maintain control over their mind and body, and never give up.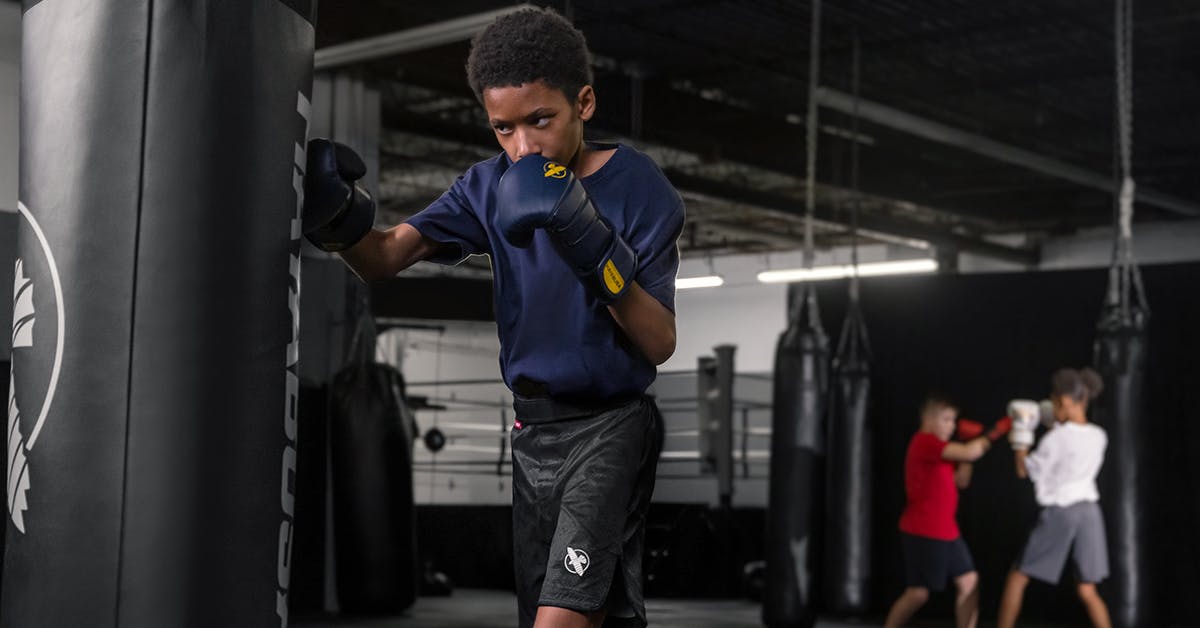 What Do Kids Need for a Boxing Class?
When it comes to boxing or kickboxing for kids, loose-fitting boxing shorts and t-shirt work best. But it's crucial they have the proper training gear when they step onto the mat. Kid's boxing gloves are the most valuable equipment they'll need to have their knuckles, wrists, and hands protected to prevent injury and keep training comfortable.
Hayabusa Kid's Boxing Gloves offer the same award-winning design as adult-sized boxing gloves, with five layers of knuckle padding and interlocking straps to keep hands and wrists in perfect alignment. Meanwhile, the Vylar exterior is virtually indestructible for maximum durability to support kids as they grow stronger.
However, the best kid's boxing gloves include finding the right size and weight to secure a snug fit without being too restrictive. For instance, 6 oz. boxing gloves for kids are designed for ages 6-10, while older kids 11-14 should opt for the heavier 8-oz. gloves. Knowing their boxing gloves are securely in place allows them to fully focus on their training without distraction. 
Once you've secured the right size, they can choose from a range of colors and designs. The neon hues and unique artistry available as part of the full kid's and youth boxing gloves collection give them a boost of confidence as they get started; plus, it makes exercising all the more fun. 
How Should Children Dress for a Jiu-Jitsu Class?
Dressing for a kid's Brazilian jiu-jitsu class is different from what's needed for boxing. Boxing involves remaining upright with a bag or a sparring partner. Whereas, jiu-jitsu focuses on grappling and holds on the ground. 
Because of this, kids need protection for their bodies to prevent mat burns and rashes. Whether enrolling your child in kid's jiu-jitsu or muay thai for kids, you'll want to consider the following gear:
Kid's Jiu-Jitsu Gi - With a heavy-duty, lightweight construction, Hayabusa's kid's jiu-jitsu gi is perfectly suited for everyday training. Reinforced lapels, knees, hips, and armpits provide maximum durability, and the stretch drawstring creates a customized, comfortable fit. 
Youth Jiu-Jitsu Spats - Jiu-jitsu for kids requires lower body protection when coming into contact with the mat. These spats have a four-way stretch fabric that provides easy mobility while also staying locked in place to keep kids safe and focused on their movements.
Geo Youth Rash Guard - Similar to spats, a rash guard provides protection for the upper body with the same comfortable, yet durable fabric to shield the skin and prevent mat burns.
Parents want nothing but the best for their kids no matter what. That's why they rely on Hayabusa kids boxing gear to keep them protected and prepared, whether it's their first time or fiftieth time on the mat.
Every discipline provides benefits, whether it's boxing and kickboxing, or muay thai and jiu jitsu. There's lasting value in engaging in this type of activity to promote physical and mental health, while making it exciting for kids to learn. Plus, it begins to instill a sense of pride as they grow and improve. 
So, what's the best martial arts for kids? Simple – it's the one they enjoy most.