Punching bag training is an important part of any boxing workout. It helps build strength, improve technique, and boost your overall fighting performance. However, you may be wondering, how heavy should my boxing heavy bag be? 
There are a range of boxing heavy bag types and sizes to choose from, and finding the right one depends on your goals and the space you have to work with. For instance, are you seeking equipment for a punching bag workout for beginners? Or, are you needing a heavy bag to elevate your training for competition?
In this blog, we'll cover the differences and benefits of each, and how an at-home punching bag of any size can make improving your boxing skills even easier. Whether you're in the beginning stages of boxing training or ramping up to compete, there's a punching bag size perfect for you.
How Heavy Should My Punching Bag Be?
As a general rule, your boxing heavy bag should be approximately half your body weight. This serves as a good starting point as you choose a punching bag weight ideal for your specific needs. 
Punching bags include speed bags, double end bags, boxing bags with stands, and bags that hang. If you're in the beginning stages of your boxing journey, you may want to start at a lighter eight and work up to a heavier weight over time.
Double end bags are on the lighter end, while hanging punching bags will be the heaviest. Here is a simple punching bag weight guide to help you make the appropriate choice: 
40 pounds: Youth beginners
70 pounds: Teens and beginner adult boxers
100 pounds: Intermediate boxers
200 pounds Heavyweight boxers
Types of Boxing Heavy Bags
When it comes to the boxing heavy bag category, in particular, the two most common are traditional hanging bags and freestanding punching bags. As the names suggest, the main difference between these boxing heavy bags is one hangs from the ceiling, allowing it to swing as it's punched or kicked. 
The latter is fit to a base, creating a stable foundation. Both are used to improve boxing fundamentals and give you a chance to maintain your regular boxing routines at home.
Boxing Heavy Bag
The Hayabusa Boxing Heavy Bag is designed to be filled to the desired weight level and is a go-to choice for at-home boxers as well as for commercial gym use. As a leather heavy bag, it's  ultra-strong and durable, allowing it to maintain its form as it takes punches day after day. 
Freestanding Punching Bag
Meanwhile, the Cobra Reflex Bag is attached to a stand and bounces back as you kick and punch it. This boxing heavy bag helps fighters improve their punch speed, accuracy, and defensive reflexes. 
The base holds water/sand to keep it stable no matter how hard you punch and kick. And the adjustable height of this punching bag option allows you to train on different opponent sizes as you level up.
Double End Punching Bag
Though not a heavy bag, the double end bag is a valuable alternative to switch up your boxing routine. It's designed to help develop your skills, timing, and endurance, making it the best punching bag for beginners. 
The rapid rebound and size and shape also help fighters with high-speed training, punching accuracy, and hand-eye coordination. Easy to set up and take down, the double end bag is adaptable to any training space and a piece of training equipment you'll want to add to your arsenal.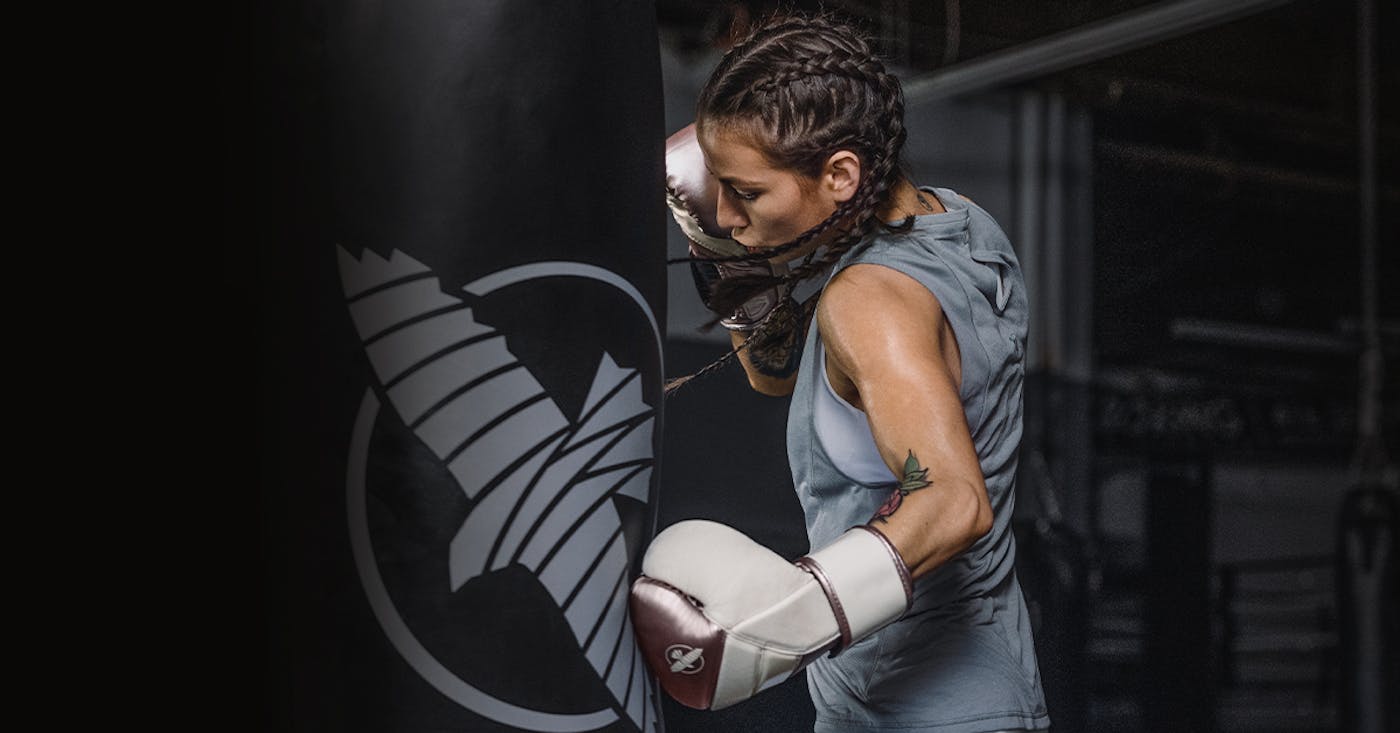 Boxing Gloves for Punching Bag Protection
Though there are multiple boxing heavy bag choices, all levels of fighters can agree the T3D Punching Gloves are the one must-have to boost any punching bag exercise. Exceptional in terms of comfort, protection, and performance, these gloves allow fighters to focus on their punch intensity without holding back. 
At Hayabusa, we're tuned into what fighters want and need to improve their boxing techniques, endurance, and performance. Investing in a quality punching bag and heavy bag gloves allows you to work out any time, anywhere.
From traditional hanging bags to double end bags, customers rely on the durability and quality of our boxing equipment and gear. Shop our latest punching bag and boxing gloves collections today.