Stepping onto the mat for the first time can feel exhilarating; yet, also a bit intimidating. After all, boxing quickly takes the average cardio workout to the next level. However, keep in mind, everyone starts from the same place. 
But as a beginner, you may be wondering, do I need specific boxing clothes? 
As with boxing gloves, there is specially designed boxing apparel to keep you comfortable and agile as you train. In this guide, we'll highlight boxing attire recommendations and other essentials to get your boxing training started on the right foot. 
Best Clothes for Boxing Training
Since boxing is such an intense cardio workout, you'll be sweating from start to finish, whether working with a bag or sparring with a partner. Therefore, it's best to wear boxing apparel with moisture-wicking, loose-fitting fabric for coolness and comfort. Boxing clothes should also allow you to move freely but be secure enough to stay in place as you punch and shift direction. 
Though there are several boxing clothing brands on the market, the Hayabusa Athletic Fightwear collection remains a fighter favorite due to the quality, performance, and durability of the clothes. All you need are shirts, boxing shorts, and shoes.
Fight Shirts for Men and Women
Fight shirts should feel airy and stretchable, secure yet made for mobility. As part of the premium Men's Apparel collection, the Lightweight Training Shirt is a go-to option. It's soft and breathable with unique micro-mesh underarm panels to deliver maximum airflow. 
Then, as temps get cooler and you take part of your training outdoors, the Men's Midweight Pullover Hoodie is another boxing clothing staple. The adjustable hood and cuffs provide a customized, cozy fit. Plus, the oversized silhouette is ideal for layering. 
Meanwhile, a good sports bra is an essential part of a women's boxing outfit, especially for high-intensity workouts. Layering the Crossback Sports Bra with the Lightweight Tank Top offers support, comfort, and enough stretch to stay agile during training. The sweat-wicking fabric and cooling design create optimal ventilation to stay cooler during boxing classes. And the various colors mean there's a different choice for nearly every day of the week.
Fight Shorts for Men and Women
As with training shirts, loose, breathable Fight Shorts are equally important. The Men's Layered Performance Shorts are instant favorites due to the stretchable outer layer which provides maximum mobility. Additionally, the silky built-in base offers ample support and coverage, and the fully elasticized waistband provides a personalized fit.
From the Women's Apparel collection, the Mid-Rise Layered Shorts are made with the same quality materials. Thoughtfully designed for comfort, fit, and peak performance, they are must-have shorts for beginners and seasoned pros alike. 
Another popular option is the Quilted Training Shorts. They offer a relaxed, mid-rise fit made of soft fleece and a sleek silhouette to transition from a full body workout to everyday wear. 
What Shoes to Wear to Boxing Class
Mix and match different shorts and shirts to create a series of boxing outfits. Although, no outfit is complete without a pair of boxing shoes. Hayabusa Pro Boxing Shoes help your feet grip the mat and prevent slipping as you move around. 
They also provide arch and ankle support for sudden twists and turns and provide cushioned comfort and ample airflow thanks to their mesh panels. For extra stability, boxing footwear like Ankle Supports and Ashi Foot Grips work to keep your feet in alignment and well-protected.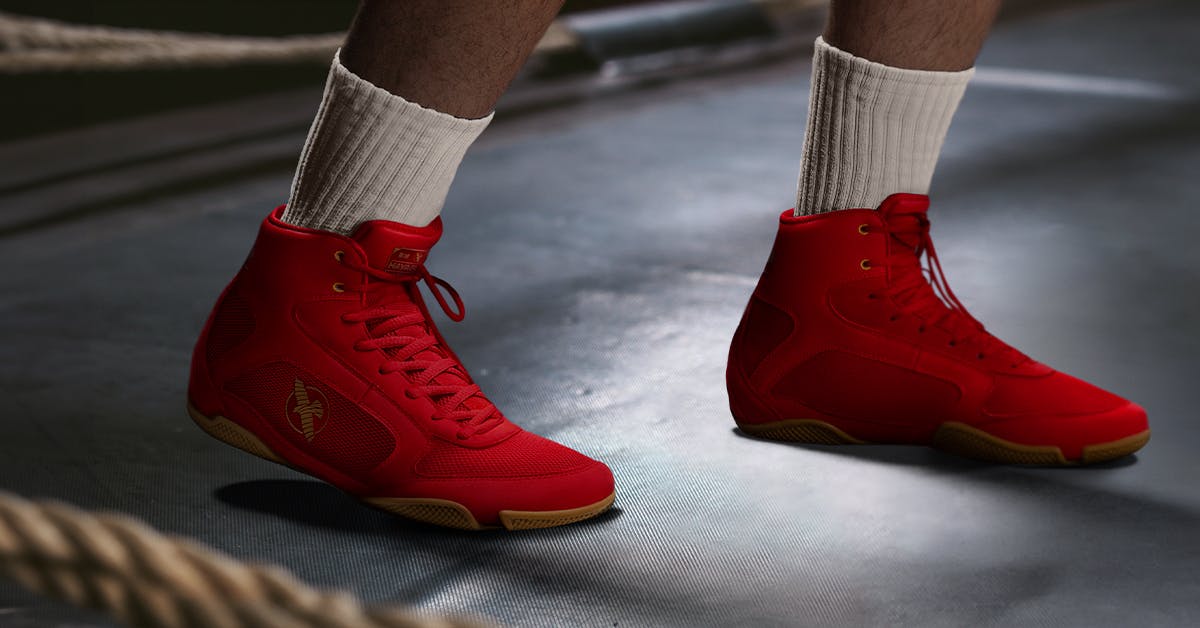 Starter Pack Essentials for Beginner Boxers
One of the pillars of boxing is building strength and confidence, and it starts with what you wear. Choosing boxing apparel is as important as finding the best boxing gloves. It involves reaching the perfect balance of a secure fit, optimal comfort, and maximum performance. 
It's easy to piece together different options to create multiple boxing outfits and choose from a variety of boxing glove colors and styles. However, for beginners, we make it even easier. Our blog on Boxing Equipment Bundles: Essentials You Need in One Place ensures you always have what you need.
Each fighter will have their own preference of what clothing makes them feel most comfortable as they step onto the mat. To make sure you're well-equipped as you start your boxing journey, check out our apparel collections (we're always adding new items!) and secure your fighting look.